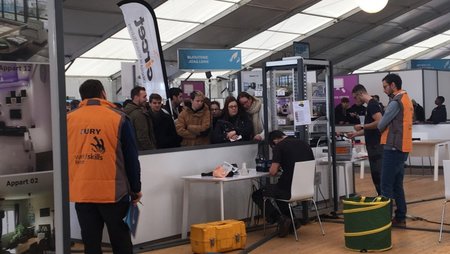 Angelo Masclet from Circet in Normandy won the gold medal and Paul-Vincent Santoni from Circet in Corsica the bronze medal at the finals of the Olympiades des Métiers held in Caen from 29 November to 1st December 2018.
Both prize-winners in their region, this time they were competing for the French national prize in the Communication and Digital category, very high-speed broadband cabling event. The closing award ceremony took place on Saturday 1st December at the Caen Zénith in Normandy, France.
Well done Angelo and Paul-Vincent!
A tremendous showcase for trades and careers in France, the Olympiades des Métiers put numerous sectors of excellence in the spotlight for young people and families. They are also an opportunity to forward the talented young people who ply their trade with passion. The National Finals brought together the best young people from all the regions of France. Over 3 days, 650 candidates representing the 15 regions of France and the Overseas Departments and Territories competed for the national award. Students, apprentices, employees and entrepreneurs were thus able to measure their skills at national level.