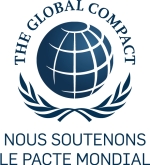 By signing up to the United Nations Global Compact in 2011, Circet has asserted its intention to brand itself as a public-spirited and responsible company. The company has thus embraced fundamental values in matters of human rights and labour, environmental and anti-corruption standards.

Circet's actions in connection with the United Nations Global Compact
Management's undertaking
Circet and its subsidiaries have set themselves a constant rule to conduct and deploy their activities in compliance with applicable laws and regulations in the countries where they conduct these activities and in accordance with the requirements set out in its code of ethics.
Human rights
Beyond applicable laws and regulations, Circet and its subsidiaries undertake to abide by international law on human rights, which states that all humans have universal and inalienable rights, irrespective of current law.
Work standards
Circet provides its services in metropolitan France. Its employees' contracts of employment are governed by French law.
The company abides by the recommendations of the International Labour Organization concerning:
minimum working age,
the ban on forced labour, and
freedom of association and the right to collective bargaining (recommendations C138, C29, C105 and C98).
Circet has set up a Safety Management System with precise monitoring of different indicators. With prevention, by training personnel in electrical hazards and overhead work, raising awareness of asbestos-related risks and occupational first-aid training.
The results are confirmed by the reduction in the number of accidents at work. Even with much higher staffing levels, the accident frequency rate has fallen steadily for 5 years, while the accident severity rate has been halved.
Environment
Circet is mobilized for environmental protection and constant improvement. This is reflected in its environmental management system, compliant with ISO 14001 and closely integrated into the group's overall quality management system. Final certification was obtained in September 2012.
After determining its specific environmental aspects and impacts, Circet has identified two areas for improvement, namely waste management and carbon emissions. Action has been taken to reduce such impacts:
The average age of Circet's vehicle fleet is under 2 years and the fleet is checked by professionals at regular intervals.
Waste is graded and processed by contractors who recover and recycle it. It is tracked by Hazardous Waste Disposal Forms that state how it has been processed.
The fight against corruption
Circet:
does not fund any political parties or holders of public office,
does not fund any administrative authority or government department with a view to ensuring favourable treatment,
books all asset and liability transactions in its books of account kept in accordance with accounting laws.
The indicators
To monitor the company's progress, Circet has introduced and monitors several types of indicators, in particular indicators on staffing levels.
Two indicators that show that employees stay in the company, non-discriminatory about age, the 55-65 year-old age bracket and the percentage of employees who have been in the company for 5 to 9 years, are both on the increase.
The United Nations Global Compact (UNGC)
Never in human history has there been so much convergence between the objectives of the international community and those of the corporate world. These shared objectives – such as creating new markets, fighting corruption, protecting the environment or even social inclusion – have led to the creation of unprecedented partnerships, as well as open-mindedness in relations between companies, the authorities, civil society, the world of work and the United Nations.
Launched in July 2000, the United Nations Global Compact is both a set of policies and a practical framework intended for companies that have made a commitment to sustainable development and to responsible trade practices. As an initiative aimed at directors, and approved by the senior officers of the companies in question, the Global Compact aims to align the activities and strategies of companies worldwide with ten universally recognized principles, in the fields of human rights, labour, the environment the fight against corruption.
Companies must give concrete meaning to their actions and respect the values and principles that connect cultures and people everywhere.

Ban Ki-moon
Secretary-General of the United Nations